Messier 57 (M 57)
Introduction | Map | Sketch | My Own Observations | References
On this page I collect my observations of the planetary nebula M 57, calledRing Nebula, in the constellation Lyra.
Introduction
The Ringnebel M 57 in the constellation Lyra is a planetary nebula and in interesting observation object, because, under favorable conditions, you may be able to recognize a ring structure.
Size: 1.2' (Stoyan)
Distance: 1,800 light years (Stoyan)
Rating: **** (Stoyan).
Map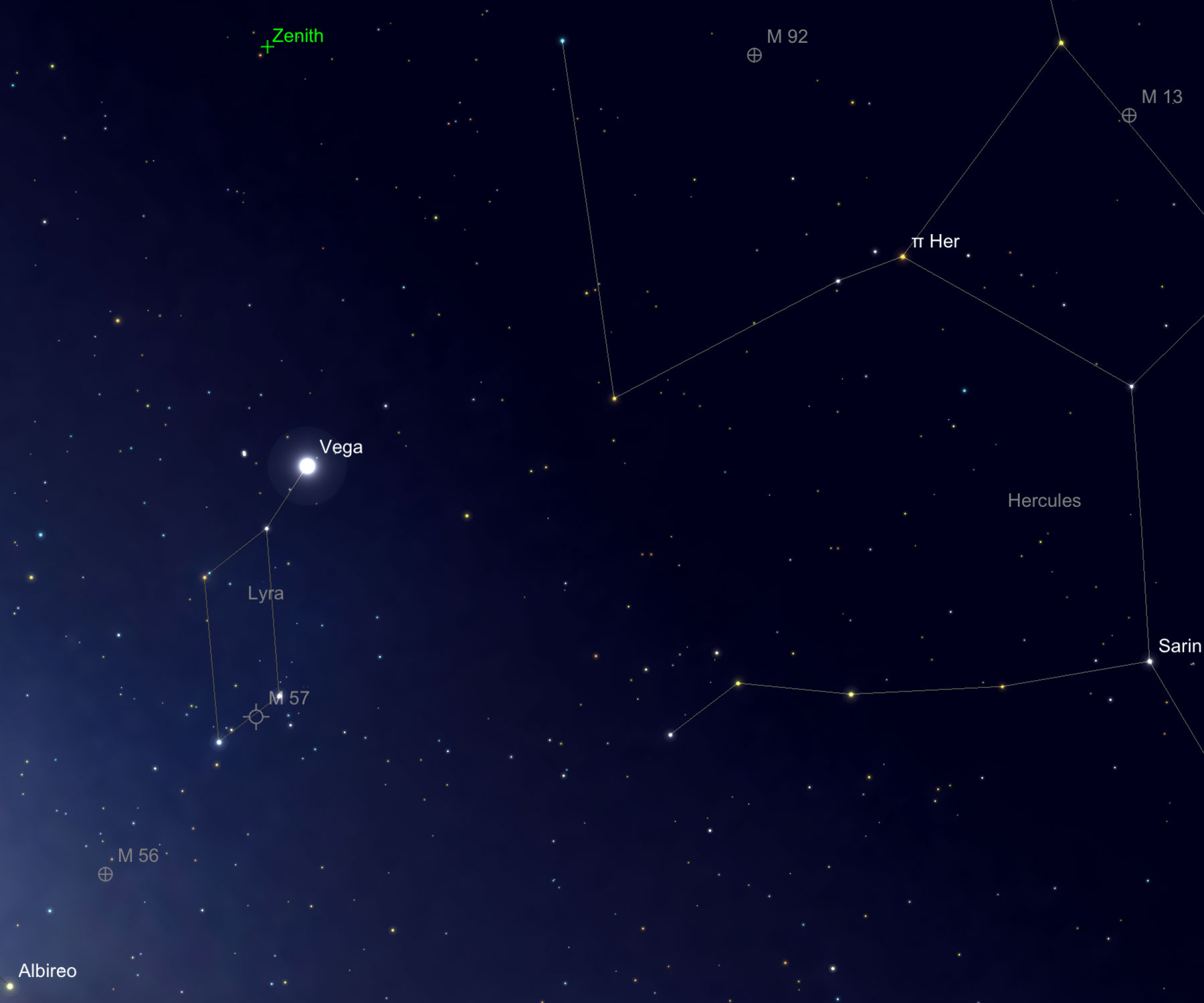 M 57 in Lyra, M 56 is nearby, double star Albireo, too, and the two Hercules clusters M 13 and M 92 are not too far away...
Sketch
The sketch by Michael Vlasov (DeepSkyWatch.com) provides a rough impression of what I observed: Sketch of M 57 (Ring Nebula) by Michael Vlasov (Copyright © Michael Vlasov 2016)
Note: I only have the author's permission to link to the sketch.
My Own Observations
I observed M 57 in Mühlhausen / Kraichgau on September 7, 2016 with the Skymax-102 and on September 9, 2016 with the Heritage P130, both telescopes sitting on the GoTo mount. The nebula was small and faint, and the ring was, at best, to be adumbrated at higher magnifications.
At the end of September / beginning of October, when we were in France (Sumène, Haute Loire), I was, in spite of several attempts, not able to find the Ring Nebula with the Heritage 100P.
Observation by someone else: At around 100 x you should see that it's a ring, if the sky is truly dark it should be very obvious.
References
On this Site