Messier 52 (M 52)
Introduction | Map | My Own Photos | My Own Observations | References
On this page I collect my observations of the open star cluster M 52 in the constallation Cassiopeia.
Introduction
According to Stoyan, the open star cluster M 52 in the constellation Cassiopeia belongs to the richest open star clusters of the northern sky. Karkoschka, on the other hand, characterized it as "many weak stars in the telescope." For me, it was hard to find at the beginning, and there was not much to see (see Karkoschka) - next time, it got better... With the Vespera, it can be observed together with NGC 7635 (Bubble Nebula).
Size: 10' (Stoyan)
Distance: 4,600 light years (Stoyan)
Rating: *** (Stoyan).
Map
M 52 in constellation Cassiopeia (top) and further DSOs that I observed around Cassiopeia. (Image Courtesy of SkySafari Astronomy, www.simulationcurriculum.com)
My Own Photos
eVscope
| | | | | |
| --- | --- | --- | --- | --- |
| | | | | |
| M 52 - Feb 5, 2020 | | M 52 - Feb 5, 2020, processed | | M 52 - Feb 6, 2020 |
| | | | | |
| M 52 - Mar 18, 2020 | | M 52 - Mar 18, 2020, processed | | |
| | | | | |
| M 52 - Aug 24, 2020 | | M 52 - Aug 24, 2020, processed | | |
eVscope 2
| | | |
| --- | --- | --- |
| | | |
| M 52 - Nov 2, 2022 | | M 52 - Nov 2, 2022, processed |
Vespera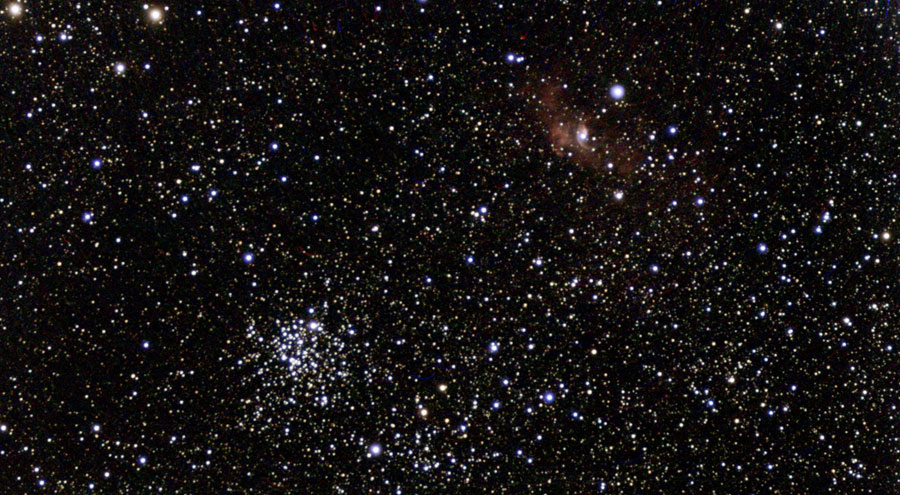 M 52, Aug 25, 2022 (with NGC 7635) - original (94 frames = 940 seconds)
My Own Observations
Observations September/October 2018
Observations February to September 2020
Observations August to November 2022
August 25, 2022 (Mühlhausen/Kraichgau: Vespera): M 52 photographed together with NGC 7635
November 2, 2022 (Mühlhausen/Kraichgau: eVscope2): M 52 photographed
References
On this Site