Unistellar eVscope - More Experiences (V. 1.2)
On this page, I describe my experiences (no observations) with my electronic 4,5" Newton telescope Unistellar eVscope (I took part in a Kickstarter campaign in mid-November 2017; it arrived on January 27, 2020). This fourth "experiences" page covers first experiences with the new app version 1.2 (from January 11, 2021 on). Possibly, these are useful for others who want to acquire the eVscope as well...
Notes: See page Overview of the eVscope Pages for just that! For a detailed version history of the app, see page App Version History.
Introduction
Photos: My eVscope (End of January 2020)
Read First, Please!
My eVscope arrived at my home at the end of January 2020. During the first weeks, it had an app with a version number below 1.0. My experiences with this early app version are reported on page Unistellar eVscope - First Experiences. My experiences with the subsequent app version 1.0 are reported on pages First Experiences Part 2 and Further Experiences. My experiences with the app version 1.1 are reported on pageFirst Experiences Part 3.
Note: Those who already start with a newer app version do not need to read the above-mentioned pages.
The following experiences are based on the app version 1.2 and refer initially only to changes compared with the previous state, later also to changes made in the course of this version.
On the one hand, according to Unistellar, some bugs were fixed, on the other hand, some changes were made regarding the functionality and the user interface. The following additions are perhaps the most important ones:
New features in the Explore Tab: Fading Soon and Appearing Soon
New citizen science modes available: Exoplanet transits, Planetary defense, Cometary activity
Note: iOS 11 is not supported anymore
The New App Version (Version 1.2.0)
The new app version (V 1.2.0) is available in Europe since January 11, 2021, and I downloaded it on the very same day. First of all, the app required me, as did the previous version, to update my eVscope, which succeeded right away. The new app version offers, according to the App Store, the following new functions (in my own words): Explanet transits, Planetary defense, Cometary activity
New features in the Explore Tab: Fading Soon and Appearing Soon. These are announcements that sky objects will become visible or invisible soon, which helps to adapt your observation order.
New citizen science modes available: : Exoplanet transits, Planetary defense, Cometary activity
Observing experience improvements
Various bug fixes
Note: iOS 11 is not supported anymore
New Features in the Explore Tab: Fading Soon and Appearing Soon
These are new sections in the "Explore" tab that announce sky objects that will appear soon at the sky or will rise soon. This information may be helpful when planning your observations.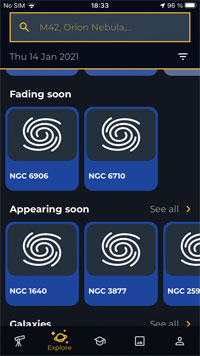 New Citizen Science Modes: Exoplanet Transits, Planetary Defense, Cometary Activity
As the screenshot below demonstrates, app version 1.2 now offers three new Citizen Science modes: Exoplanet Transits, Planetary Defense, and Cometary Activity: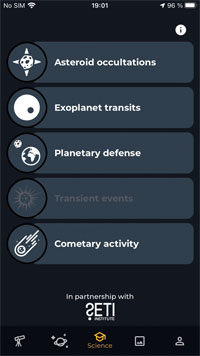 Observing Experience Improvements
Regarding this aspect, I was not able up to now what this refers to...
Various Bug Fixes
In my first test of the new app, I did not lose control as "operator" even after the Wi-Fi connection broke. But it is still too early to say whether this problem has been fixed.
Upload Data
Also in version 1.2.0 of the app, the data transfer did not succeed at the beginning. I therefore started a "technical request" (technical case) at Unistellar (January 13, 2021) and received a reply on January 15, 2021 with a link to a related article in the Unistellar Help Center (eVscope Data Storage & Memory: Uploading Data). Since I did not really know what to do, I simply re-entered the Wi-Fi network's password (network key) (you do not see the password in plain text, only "bullets"). After that the upload worked as described in the article.
Small Bug List
Crashes and Wi-Fi breakdowns persist in the new app version (1.2.0).
...
Suggestions for Improvement
My list of suggestions for improvement originates from version 1.1 and is not too long:
Eliminate the problems I reported (crashes, Wi-Fi breakdowns, loss of control as operator)
Saving the photo recording data in the Exif data, or at least saving the observation duration in Enhanced Vision mode in the file name (optional)
Small icons on the scales for manual exposure (and maybe also on those for automatic exposure) that indicate what the sliders do (see photo below - I am NOT a graphic designer!)
A progress indicator for the current recording like the one offered by the Atik Infinity
A simple mosaic mode (similar to the one that Vaonis will offer), which allows photos of up to 3...5 x the sensor size (for rich-field photos)
Image quality: Offer the possibility to reduce or cancel noise reduction in order to retain more details to achieve less "smeared" photos (see elsewhere for details).
Eplore tab: A complete list of all objects in the catalog (alternatively, a list on the Unistellar Website); the list might contain certain characteristics of the objects.
Photo: Small icons at the rulers would make clear, what the sliders do and in which direction they have to be moved for which effect.
First Conclusions on Version 1.2
App version 1.2 has brought some pleasant and useful improvements. Once again, a"thank you" to Unistellar for that!
Links