Messier 25 (M 25)
Introduction | Map | Find/Identify | My Own Photos | My Own Observations | References
On this page I collect my observations of the open star cluster M 25 in the constellation Sagittarius.
Introduction
The open star cluster M 25 is located in the constellation Sagittarius and should be visible to the naked eye as small nebula patch. According to Stoyan, it is considered as a "classical object for binoculars," which is already resolved into stars in binoculars.
Size: 30' (Stoyan)
Distance: 2,000 light years (Stoyan)
Rating: *** (Stoyan).
Map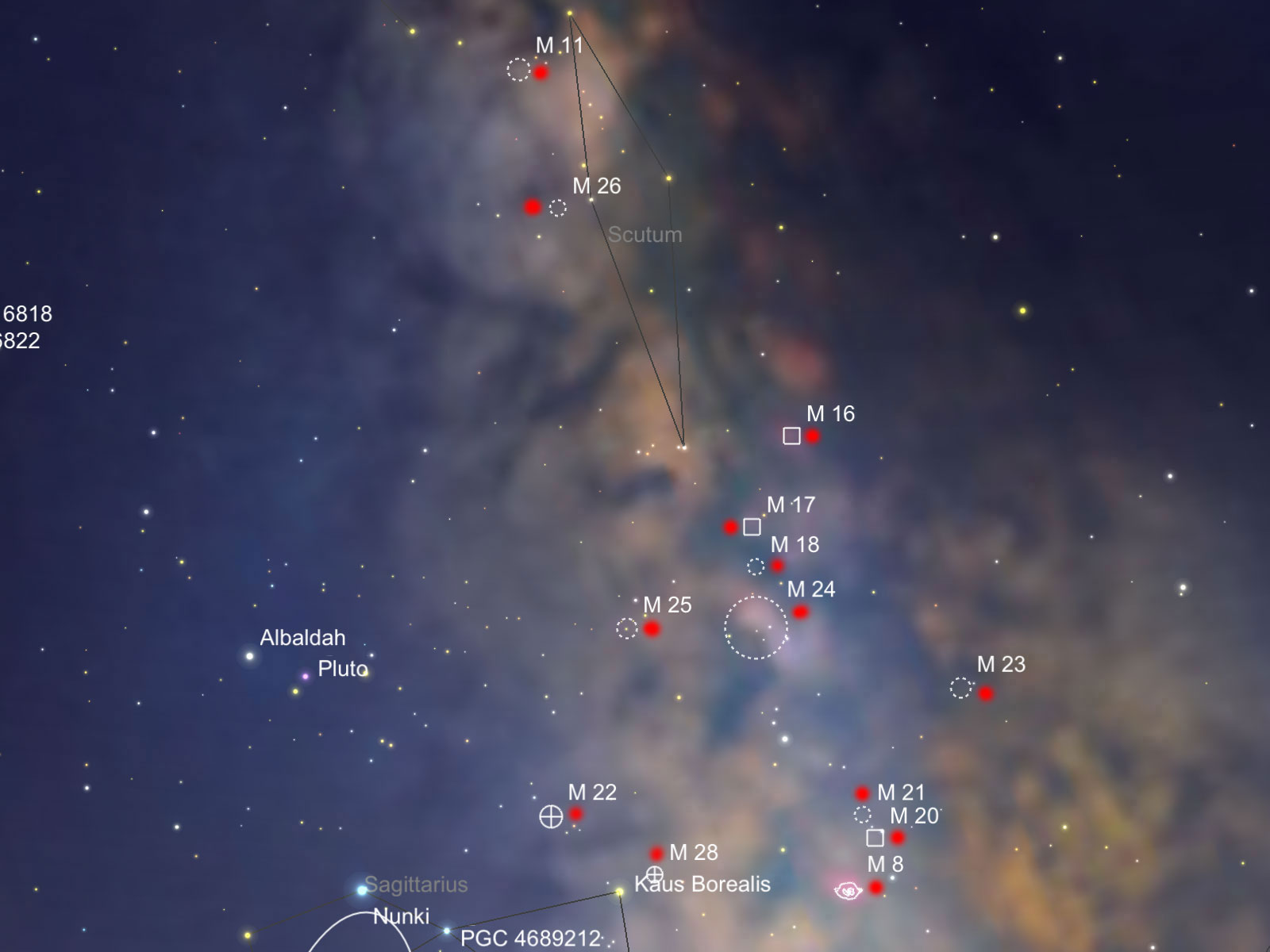 M 25 in constellation Sagittarius (Image Courtesy of SkySafari Astronomy, www.simulationcurriculum.com)
Find/Identify
Find: M 25 is located to the East (to the left) of M 24, and below and to the left of M 17 and M 18.
Identify: There is a brighter star to the right of the open cluster M 25: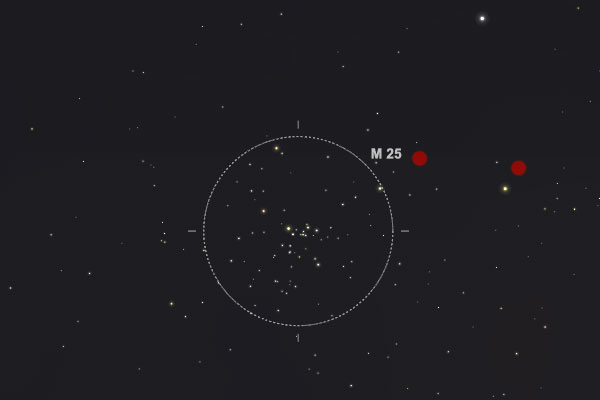 M 25 in constellation Sagittarius and perhaps the yellow star next to it (see my observations)...
My Own Photos
| | | | | |
| --- | --- | --- | --- | --- |
| | | | | |
| M 25 - May 29, 2020 | | M 25 - May 31, 2020 | | M 25 - Aug 8, 2020 |
| | | | | |
| M 25 - May 29, 2020, photo on top processed | | M 25 - May 31, 2020, photo on top processed | | M 25 - Aug 8, 2020, photo on top processed |
| | | | | |
| M 25 - Aug 23, 2020 | | M 25 - Aug 23, 2020 | | M 25 - Jul 18, 2021 |
| | | | | |
| M 25 - Aug 23, 2020, photo on top processed | | M 25 - Aug 23, 2020, photo on top processed | | M 25 - Jul 18, 2021, photo on top processed |
My Own Observations
Observations October/November 2018
October 12, 2018 (Mühlhausen/Kraichgau: PS 72/432 on AZ Pronto Mount, 100P): M 25 (probably) appeared as an open, wide-spread cluster close to a yellow star
Observations September to October 2019
Observations May to August 2020
Observations July 2021
July 18, 2021 (Mühlhausen/Kraichgau: eVscope): M 25 photographed (n.o., r.f.), new image size and processing, poor collimation despite new collimation
References
On this Site